Responsible for the commercialisation of Life Science research tools?
Are you unsure about the scientific or commercial value of your research tools and want to save your storage space? Ximbio's existing relationships with research tool repositories and its expertise within the research tool industry can help you identify valuable research tools and ensure they are securely deposited and stored.
How We Can Help
When you partner with us, we become part of your Technology Transfer Team (TTO), helping you to cost effectively sort through your research tools, to identify and commercialise those research tools with scientific or commercial value. Benefit by:
Saving time – As Ximbio works as part of your TTO team, we can save you time, allowing you to focus on commercialising your higher value products or research tools
Saving resource effort – We can cost effectively identify reagents with commercial and/or scientific value and can store these research tools at scale through our existing repository partnerships. Find out more about Ximbio's repository partnerships.
Generating additional revenue – We can help you increase the revenue generated for your institute at no cost to you, by managing the commercialisation process for your research tools.
Simplifying storage – Ximbio has existing agreements with research repositories. When you register your research tools with us we can take on the burden of storing and managing those research tools.
How it Works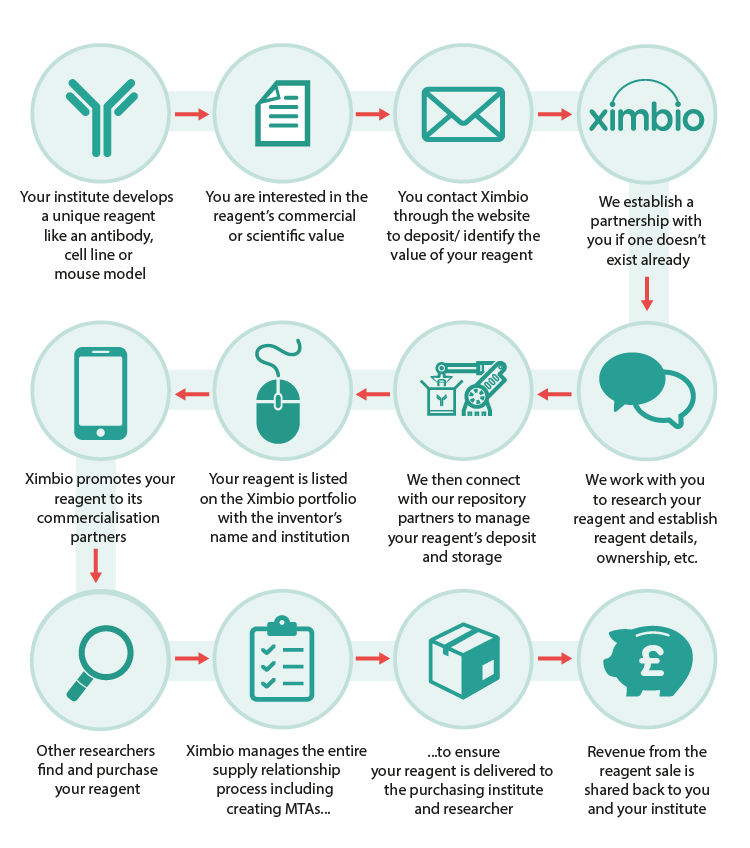 Get in touch
To find out how we can help you simplify the management and commercialisation process for your reagents, get in touch with our team
Contact us