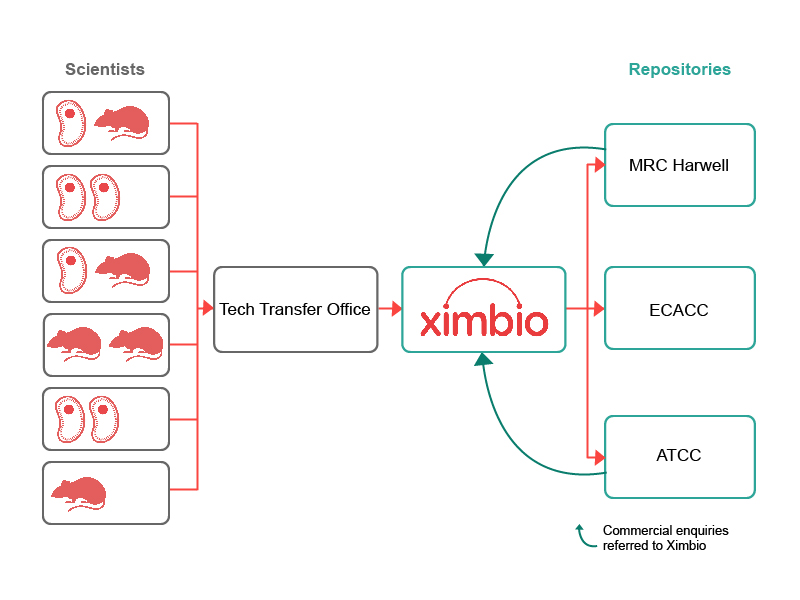 Most reagents / research tools have an uncertain commercial potential or unknown scientific demand. For many technology transfer offices, identifying the commercial value of these reagents / research tools and carrying out the commercialisation process, can be effort intensive and time consuming. Many technology transfer offices therefore focus only on commercialising reagents that have a clear commercial or scientific value. This means many institutions miss out on a potential source of income. Partnering with an organisation like Ximbio can help you solve this problem.
Ximbio works with your Technology Transfer Office to screen all the reagents / research tools your institute owns to identify those that may have scientific or commercial value. Ximbio will then work with you to commercialise and deposit these reagents / research tools in one of Ximbio's partner repositories. This saves you the time and effort of having to negotiate individual repository agreements for your reagents and allows you to generate income for your institute, at no cost to you, from reagents/ research tools that wouldn't otherwise be cost effective to commercialise.
Save time and generate income at no cost to you
In addition to increasing the revenue generated for your institution, partnering with Ximbio would also allow you to:
Save time:

Benefit from Ximbio's economies of scale

Gain peace of mind:

Rely on Ximbio's expertise to identify the most beneficial and appropriate repository for your products

Increase your reagent portfolio:

Source lost and forgotten reagents from the back of your freezers, using Ximbassadors on campus

End-to-end service:

Take advantage of Ximbio's end-to-end service; from managing the repository, through stock generation, authentication and quality control testing, to confirmation of the reagent identity and integrity

Secure your antibodies, cell lines and mouse models for the long-term:

Capitalise on Ximbio's partnerships with recognised repositories

Access a wider customer base:

Benefit from Ximbio's international relationships

Raise your profile:

Promote and commercialise your reagents / research tools on Ximbio's platform.
Ximbio regularly deposits new reagents in a repository. Our latest repository developments include:
Cell lines
Since July 2009 Ximbio has deposited over 180 reagents with the European Collection of Authenticated Cell Cultures (ECACC). In addition, Ximbio has commercialised over 40 cell lines derived from five American Type Culture Collection cell lines. Through these partnerships, we can help you simplify the management of your cell culture reagents.
Hybridoma / Antibodies / Peptides and small molecules
Ximbio's in-house reagent repository, where the majority of CRUK's reagents are stored, provides a 'one-stop-shop' for all your reagent management and repository needs. Partner with us to store your cell lines, antibodies, hybridomas, peptides and other small molecule reagents / research tools.
Mouse Models
We currently have seventeen mouse models stored with Taconic and thirteen mouse models, from across Europe, deposited with the MRC Harwell mouse repository. Ximbio is working to expand the range of its mouse models that can be accessed through MRC Harwell.
Zebrafish
Partnering with us, allows you to simplify the process of depositing your Zebrafish reagents.