Cape Bio Pharms is using its disruptive plant-based platform to produce mammalian antibodies & proteins for the bio-medical research market.

Cape Bio Pharms was founded in 2018, to exploit technology developed by the University of Cape Town's Biopharming Research Unit (BRU), to produce pharmaceutical and industrial proteins within tobacco plants. Its mission is to deliver on the industry's pressing need for validated antibodies and eventually produce animal and human vaccines and therapeutics. The company has close links with the University of Cape Town and holds exclusive licensing agreements for many of the plant-made products developed by BRU. Cape Bio Pharms is building a library of monoclonal primary and secondary antibodies, both conjugated and unconjugated. These are also being produced in various formats such as nanobody, ScFv, Fab and Full, alongside various recombinant proteins such as BSA, and enzymes such as HRP.
As a new company within the life sciences reagents industry, Cape Bio Pharms decided to partner with Ximbio, to access a global audience, commercialise its reagents and to widen its profile within the life sciences reagents industry.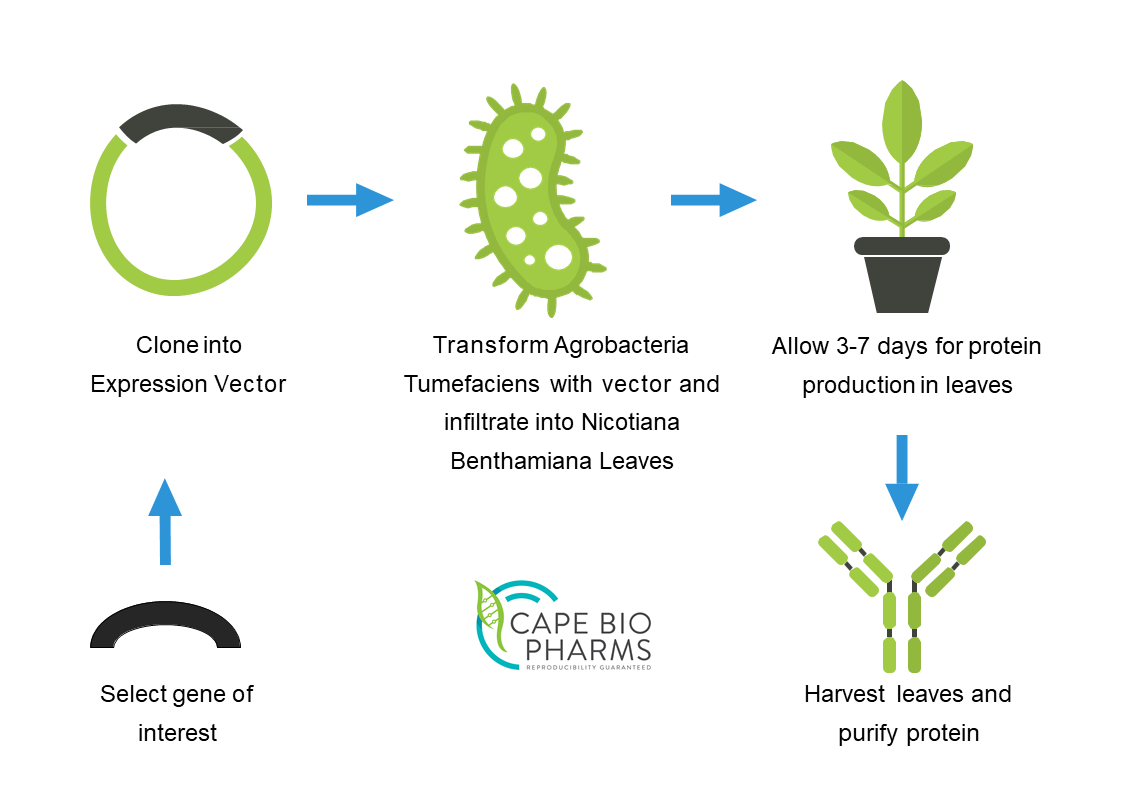 "We are thrilled to partner with Ximbio given their strong relationships with Life Science Researchers and Institutions around the world. Many of our antibodies currently being tested relate to non-communicable diseases such as Cancer. By partnering with Ximbio we will benefit enormously from their experience in this field and deliver on the challenge of getting our products to the market. "
Belinda Shaw, CEO/ Founder of Cape Bio Pharms
Cape Bio Pharms antibodies
Infiltration (transfection) of Nicotiana Benthamiana with the antibody encoding vector is achieved using a modified strain of Agrobacterium tumefaciens bacteria. Protein expression is rapidly induced and after just three days post-infiltration, the leaves can be harvested. The antibody is then purified using a modified, but essentially similar process to that used for purification from cell cultures. Antibody production in plants provides several advantages;
Increased reproducibility

– The exact same genetic construct is reproduced across multiple batches due to plant cloning techniques

Simple scale-up process

– the plant-based expression system is simple to scale-up – just add more plants

Reduced contamination risks

– The risk of transferring zoonotic elements capable of interfering with experimental results is eliminated by protein production in plants. This is because plant pathogens are not transferable to mammalian or human hosts. This becomes increasingly important when making therapeutics and vaccines.

High yield –

Milligram quantities of protein can be produced by each plant due to a high yielding proprietary expression vector.

Rapid turnaround

– From initial clone production through to having purified protein available can take as little as 6 weeks and as little as 4 weeks from infiltration (transfection) to purified protein. This flexibility becomes highly desirable, when producing vaccines and therapeutics.

Proof of Concept runs

– The plant-based platform allows small experimental runs to take place on specific or novel antibodies to determine how the plants express, what the yields are and the efficacy of the protein.
New Antibodies from Cape Bio Pharms
Cape Bio Pharms has recently added three new antibodies to the Ximbio portfolio. All of these antibodies were originally derived from off-patent sequences in the public domain and then optimized to be expressed in plant specific expression vectors.
Anti-HIV1 p24 scFv recombinant antibody (HRP)
This antibody can be used to detect the p24 protein of HIV-1. This is beneficial as the antibody can identify very low concentrations of the p24 antigen, so could be used to diagnose very early infection. This antibody functions as both a primary as it binds directly to the target antigen, and a secondary as it is conjugated to HRP. Visit our portfolio to find out more about this antibody:
Anti-HIV1 p24 recombinant antibody
This antibody binds to exactly the same antigen and epitope as the scFv version above, however it has been reverse-cloned into a full-length format by fusing the variable regions to the constant regions of human IgG1. This facilitates detection, allowing the antibody to be recognised by multiple secondary antibodies. Visit our portfolio to find out more about this antibody:
Anti-Human IgG scFv recombinant antibody (HRP)
This antibody is in the scFv format and recognises the constant region of human IgG primary antibodies. It can be used as a primary but behaves like a secondary to detect full length humanised antibodies and, as HRP is attached, as a detection molecule. scFv fragment antibodies are ~1/6 the size of full-length antibodies which gives many benefits including increased tissue penetration and decreased hypersensitivity/ rejection in vivo. Visit our portfolio to find out more about this antibody:
Both of the Anti-HIV p24 recombinant antibody can be bought as a COMBO KIT: Anti-HIV1 p24 recombinant antibody AND Anti-Human IgG scFv recombinant antibody (HRP).
For more information on how we can help you commercialise your reagents, contact us
Contact us