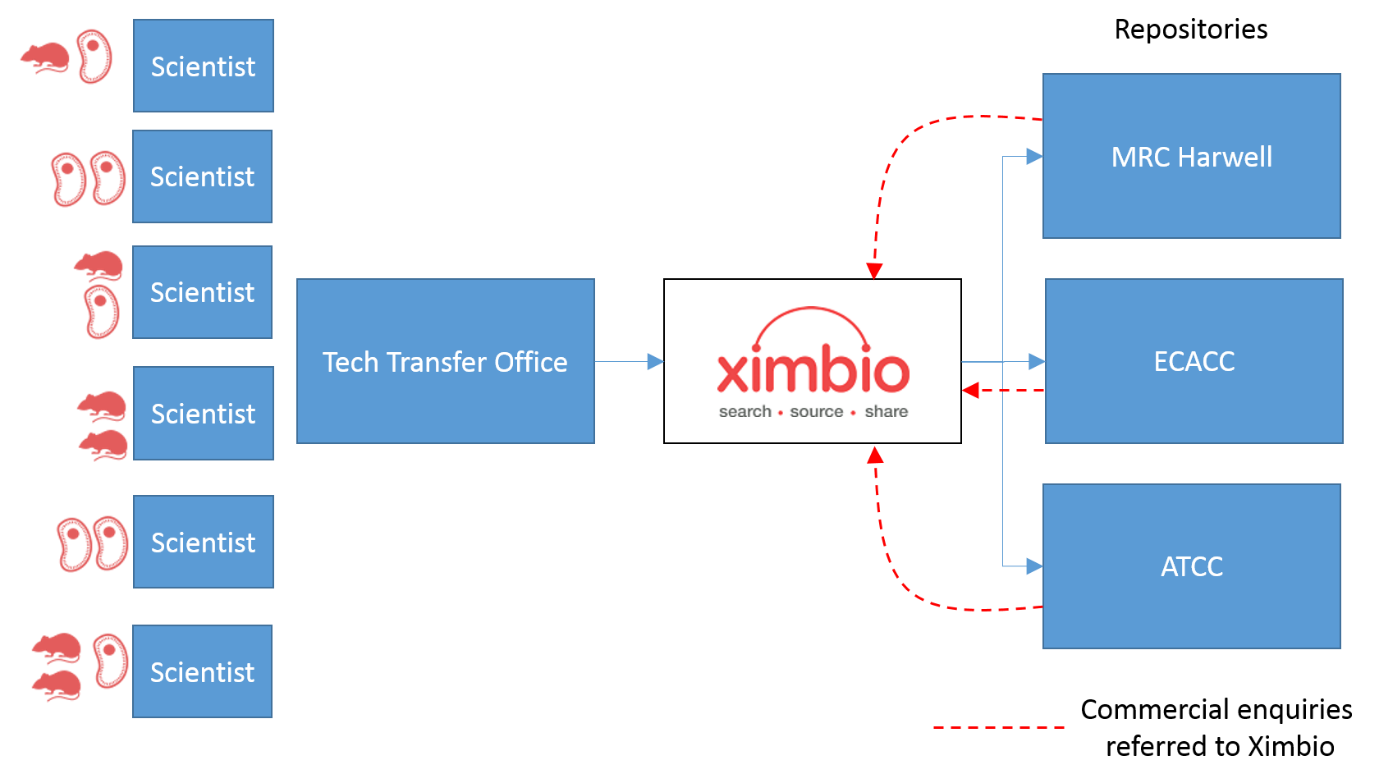 Negotiating a deposit agreement with a repository can take considerable effort and for a few cell lines or mice, sometimes with uncertain commercial potential or scientific demand, may not be a viable option for an individual tech transfer office. In contrast, at Ximbio we benefit from economies of scale, with hundreds of research tools to deposit and regular contact with repositories. Why not save time and secure cell lines and mouse models generated at your organisation for the long-term by capitalising on Ximbio's relationships with international repositories? As we're working at scale and on behalf of many organisations it makes sense for us to work closely with recognised repositories such at the European Collection of Authenticated Cell Cultures (ECACC), the American Type Culture Collection (ATCC), and the MRC Harwell mouse repository.
We can determine the most appropriate repository and channel cell lines or mice from your Institute into the banking schedule. For example, through our due diligence work we might favour ATCC over ECACC if we identify a cell line is encumbered by a technology ATCC owns the rights to. On receipt of deposits, the repositories generate stocks and undertake authentication and quality control testing to confirm the identity and integrity of the research tools. For example, we have deposited over 100 cell lines with ECACC and are in touch regularly to add new cell lines to our agreement and monitor the banking progress of deposits. For human cell lines ECACC uses forensic science methods, originally developed for criminology and paternity testing, to verify the identity of cell lines and check they have not been inadvertently cross-contaminated or misidentified.
Latest repository developments
MRC Harwell – our mouse deposit programme
This is an exciting year for us as we've signed an agreement with the MRC Harwell mouse repository to make mice in the Ximbio catalogue more easily available. Four mouse models developed at the Institute of Cancer Research funded by CRUK mark the start of the programme we have to deposit over 80 mouse models.
ATCC derivative cell lines – we can commercialise on your behalf
Anyone wishing to commercialise ATCC derived cell lines needs to have a licence in place. Since we released the news that we have established such a licence we've had a fantastic response from tech transfer offices and researchers who had found the need for a licence a barrier; we can commercialise on your behalf. Ximbio can now take forward commercialisation of ATCC derived cell lines which at some institutes had previously been in limbo.
Raise your profile
Using platforms like Ximbio to share and commercialise your reagents for you and your institution's benefit is one of many ways the internet is helping you to increase your impact on the scientific community. To read about other ways you can use the web to enhance your scientific reputation, boost your career opportunities and have a lasting impact within the scientific community, download our free ebook today.
{{cta('dcb7e581-0fd2-4937-9b36-3f671d622119')}}