The countdown to round three of Cancer Research UK's Grand Challenge has begun.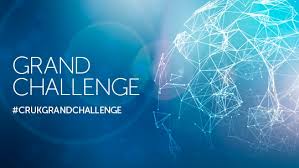 Cancer Research UK's Grand Challenge is the most ambitious cancer research grant in the world, providing teams with the freedom to try novel approaches, at scale, in the pursuit of life-changing discoveries.
It consists of a series of awards, each worth up to £20m. At the beginning of each round, an independent advisory panel sets new challenges, opening a call for bold ideas from international, multidisciplinary teams. These teams need to be willing to take on the toughest challenges in cancer and to take advantage of the freedom and support offered by this ambitious award.
Seven exceptional teams have already received funding from the two rounds that have taken place so far. These teams have taken on challenges from mapping tumours at every level to devising treatment approaches based on tissue specificity. More details can be found on the Grand Challenge website.
Identifying and solving the biggest challenges in cancer research requires the brightest international minds. (https://www.cancerresearchuk.org/funding-for-researchers/how-we-deliver-research/grand-challenge-award )
"By funding these remarkable projects, we're pushing the boundaries of what's possible and fulfilling our unwavering commitment to excellence in cancer research. Already, we're looking ahead to round three and eager to see the new ideas and approaches that will surface. This is not just about making incremental increases in our understanding, but potentially major leaps in our ability to prevent, diagnose and treat cancer."
Iain Foulkes, Executive Director of Research and Innovation
Grand Challenge 2019
To learn more about Cancer Research UK's Grand Challenge visit the website
Learn More