Reaping the benefits of collaboration
The University of Iowa and Ximbio
The University of Iowa (UI) is one of the US's premier public research universities with 32,948 students from 114 countries and all 50 US states. The University of Iowa Research Foundation (UIRF) assists UI faculty researchers in the transfer of technology from the lab to the global marketplace. The office manages a wide variety of intellectual properties (IP) arising from research programs throughout UI and is the resource for faculty and staff researchers in the areas of patent prosecution, marketing, and licensing.
UIRF wanted to increase its ability to gain value from the research tools developed by their researchers and so, in 2017, UIRF decided to partner with Ximbio to increase the number of reagents it was commercializing.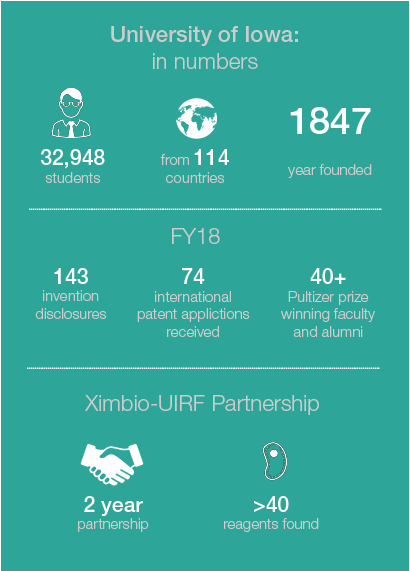 ""We chose to work with Ximbio because of two main benefits; The PI gets recognition and their research tools dispersed and the tech transfer office gets resource support above and beyond the creation of MTAs. The fact that anything generated goes to a non-profit at both ends of the process is nice too, as it benefits everyone.""
Spencer Stumpf, University of Iowa Research Foundation

Working in collaboration
As a result of UIRF's partnership with Ximbio, over 40 reagents have already been identified with more continuing to be discovered. The reagents that have been commercialized and added to the portfolio are generating interest, benefiting both UI and the inventing researcher. One in particular, a monoclonal antibody against the P6 Protein of H. influenzae, is already providing revenue to UIRF.
""Working with Ximbio has added 30-40 numbers to our AUTM disclosure list and available technologies. This has been a nice supplement to our metrics and has helped us connect with researchers not familiar with our office.""
Spencer Stumpf, University of Iowa Research Foundation
In addition, the Ximbassador program was established at the university. Ximbassadors are PhD or post doc research students or technicians who work with the institute to help find high value reagents and manage the commercialization process over a 6-month internship.
""Having a Ximbassador has been invaluable. They know the science and work with other Grad students. They have connections and are able to increase awareness of UIRF amongst the researchers simply through their familiarity.""
Spencer Stumpf, University of Iowa Research Foundation
UIRF has recently appointed its second Ximbassador and the benefits to those taking up these internships are clear;
""For Bioscience majors, there are not many internship opportunities or chances to broaden your career horizons. The fact that this internship allows me to gain insight into a potential career option, while having the opportunity to learn and network with other professors outside our department was a big draw for me. I've really enjoyed the impact my role has on the wider university community and the opportunity to learn about communications whilst raising awareness of the program. This internship has helped me identify the type of role I would like to work in in the future. I would really recommend applying for the Program as it is very different from the training you receive as a researcher – you get training in a broader range of skills and the chance to try different things, not just focus on research.""
Jennie Yuija Liu, University of Iowa Ximbassador
Developing a partnership for the future
Looking ahead, UIRF and Ximbio will continue working together to increase tech transfer awareness on campus and to identify and commercialize reagents through the Ximbassador program and the Ximbio portfolio.
""I think we're at a really good stage in our partnership – awareness of UIRF and Ximbio is increasing on campus, our processes are working and we're starting to get a regular inflow of information. I'm looking forward to the year ahead.""
Spencer Stumpf, University of Iowa Research Foundation